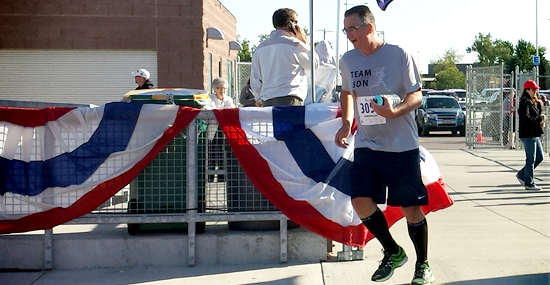 Mark Shlanta stepped on a scale about 18 months ago and didn't like what he saw. His weight had crept up to an all-time high. He decided to do something about it.
Shlanta, the chief executive officer of SDN Communications in Sioux Falls, lost about 20 pounds dieting. Then he lost about 20 more with the help of exercise.
On Sept. 13, he was among 1,145 runners who completed the Sioux Falls Half Marathon, a 13.1-mile jaunt. More than 300 other runners competed in a full marathon.
The half marathon was the first for Shlanta, who turned 50 in February and had only trained for a few months.
"I didn't set out to be an example, but if my example motivated someone else to get out and do something different this summer, fabulous," he said.
SDN encourages its employees to be active and healthy and not just with verbal encouragement. In addition to hosting wellness presentations and competitions for employees, the company offers its workers cash incentives for good health practices.
"We take wellness very seriously and want to incentivize our employees to do as much as they can for their own health," said Amy Preator, director of human resources.
A wellness program that has been in place for three years allows SDN employees to earn up to $750 each based on the results of an annual wellness assessment conducted by a third party.
Participating employees volunteer for a confidential screening every November. Participants are examined in six categories: cholesterol ratio, blood pressure, step test, tobacco and lung test, body fat and waist circumference.
Employees receive $75 for each category in which they are ranked as a moderate risk and $125 for each category in which they are ranked a low risk. They are not paid for categories in which they are ranked high risks.
Employees may spend the bonus money on a gym membership or on whatever they wish, Preator says.
SDN also encourages good health among its employees by bringing in outside experts a couple times a year to talk about health and fitness. In-house competitions also are held and probably are even more motivating.
The most popular event of the past year pitted men vs. women in a battle of the sexes. It even generated good-natured smack talk, Preator said. Employees logged and reported their exercise time over a period of weeks, and the team with the highest average won.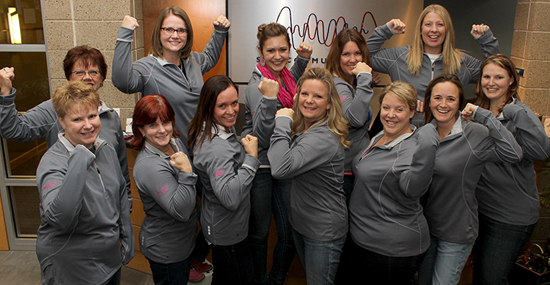 "The girls kicked butt. The guys will lie and say it was rigged, but the fact is they just didn't show up," Preator said, with a laugh.
"Fitness and wellness is a priority. If it wasn't, SDN wouldn't put so many resources into it," she said.
SDN pays 75 percent of the cost of employee health insurance, including dental and vision. Many companies cover less.
The company benefits in the long run from its emphasis on wellness with reduced health insurance costs as well as by having employees who feel better.
"I'd rather have employees use their paid time off for vacations than being sick. I'd rather they get out and enjoy life," Shlanta said.
Most employees probably share that opinion.
SDN Communications is the premier regional provider of broadband connectivity and related technology services and equipment for businesses and institutions. For more information about the company, including career opportunities, take a look around its website at sdncommunications.com.