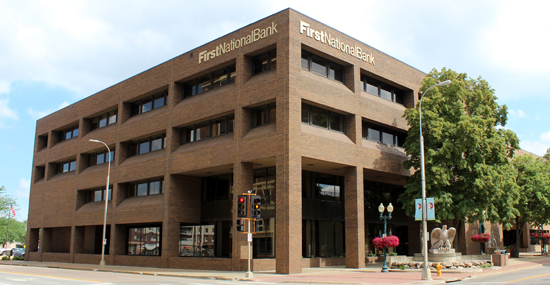 ---
In early 2013, an underground transformer fire temporarily knocked out electrical power to a four-block area of downtown Sioux Falls. The fire burned beneath the sightline of dozens of businesses, but it left a strong impression on executives at The First National Bank in Sioux Falls.
Less than two months later, a devastating ice storm splintered thousands of trees, took down utility lines and caused millions of dollars in damage to businesses, homes and vehicles across the city.
The back-to-back disasters suffered in the community were among the factors that helped convince leaders at The First National Bank in Sioux Falls, or FNBSF, to upgrade the bank's data protection strategy. Within two years, executives had moved the business's electronic data storage out of its building complex and started using two, interchangeable data centers that are more than 150 miles apart.
SDN Communications, one of the bank's key partners, helped implement the strategy. Today, FNBSF continues to operate from two completely redundant data centers – one in an SDN-owned facility northwest of Sioux Falls and one in the Omaha area that TierPoint operates. TierPoint is a global player in the data center industry and one of SDN's strategic partners.
The bank can flip from using one data center to the other in about 30 minutes, without interrupting customers' service, said Timm A. Hoffman, chief information officer at FNBSF. This spring, for example, when flooding problems worsened in Nebraska, the bank could switch its electronic operations over to Sioux Falls.
"It's been really successful," Hoffman said.
Dave Fehrs, SDN's account executive for FNBSF, said the company's implementation of the dual data center system "is the gold standard that businesses that can't afford to suffer downtime should aspire to."
"It's unique, and it's something that First National Bank should be commended for. They're making sure they're going above and beyond to make sure that they're always available for their customers," Fehrs said. "It's obviously important to them or they wouldn't have taken the steps to do it."
SECURE & PROTECT
The financial institution also places a heavy emphasis on data protection and cybersecurity. For example, it recently added a full-time cybersecurity engineer to its staff. Because, while it's critical for customers to always have access to their accounts, it's also imperative that the wrong people don't get access.
With technology constantly evolving, providing top-notch cybersecurity is getting tougher all the time, Hoffman said. Banks can use technology to help protect themselves and their customers, but technology is not the full solution, he said.
"The weakest link in any organization is the people in the organization," Hoffman said. That's why training employees also is a high and ongoing priority at the bank.
A business can deploy all of the best tools of technology on the market to protect its network and assets, but that can all be defeated by a single employee who, for example, is tricked by a hacker into opening an infected email link or giving out sensitive company information in some other way.
The bank exercises caution in chasing the newest advances in technology because they might prove to be short-lived or flawed.
"Our philosophy is to not be on the bleeding edge of technology, but to be a fast follower, for it to be somewhat proven," Hoffman said.
A STRONG OUTLOOK
SDN has assisted the bank with other connectivity and network services for more than 20 years – longer than Hoffman has been with the bank – and the relationship remains strong, he said.
"SDN is always willing to look outside the box and work hard to help implement solutions," said Hoffman, who has been the bank's CIO for 10 years. "We at The First National Bank in Sioux Falls continue to highly value our partnership with SDN and look forward to continuing to work together into the future."
FNBSF is nearly 135 years old and deeply rooted in Sioux Falls. The privately-owned bank focuses heavily on providing services to businesses and agricultural operations, but it also offers extensive services in areas such as retail banking and wealth management. It has 18 locations in Sioux Falls and nearby towns, and it employs about 270 people.
SDN Communications is a regional leader in providing broadband connectivity and cybersecurity services to businesses in communities such as Sioux Falls, Rapid City, Worthington, and the surrounding areas.