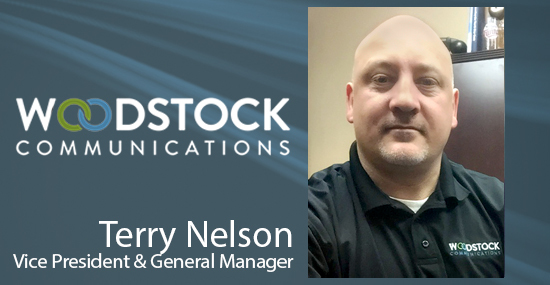 Serving a rural area has never stopped Woodstock Communications from finding and pursuing opportunities to expand.
"We're looking all the time. We're expanding all the time," says Terry Nelson, vice president and general manager of Woodstock Communications. "We're looking continuously."
Indeed, most of the company's growth in recent years has come from ventures beyond its traditional, residential-heavy, five-town service area, which includes the Minnesota communities of Woodstock, Garvin, Ruthton, Holland, and Russell.
The Ruthton-based company's roots date back to creation of a fully automated phone exchange in Woodstock in the late 1940s. Ruthton joined the system in 1959 and became the first exchange in Minnesota to be built completely underground.
Today, Woodstock Communications provides about 1,200 access lines for telephone and internet services. Cable TV is available in some areas, but the company is exploring options to provide state-of-the-art, digital TV services in the future.
The company has nine employees, including Nelson. He joined the company in 1998 as a field technician, advanced in 2007 to plant manager, and became vice president and general manager in 2014.
The Ken Knuth family owns Woodstock Communications. Ken's father, Bernard, led the early development of the company, which evolved out of phone service started by Woodstock Farmers Mutual. Today, Ken Knuth is the chief executive officer and Ken's son, Nathan, is the chairman of the Board of Directors.
The company takes pride in staying at the forefront of communications technology for more than 70 years.
"Over the past five years, we've expanded our footprint in southwest Minnesota with an additional 100 miles of fiber optics to bring broadband services to seven other communities," Nelson says.
The additional rural areas being served with broadband access are near Tyler, Edgerton, Slayton, Westbrook, Chandler, Balaton, and Lake Wilson. The expansion has allowed Woodstock to serve additional business clients, such as cellular providers, schools, banks, and healthcare facilities.
The company also is in the process of adding eight new towers to expand wireless broadband services to underserved areas in Murray County and parts of Lyon and Pipestone counties. The wireless service is known as Woodstock Wave Wireless Internet.
Rural areas underserved by large communications companies present significant growth opportunities for small, independent telecoms that have the ability and desire to serve them, Nelson says.
"There is such a potential for growth in those areas," he says. "One of the biggest challenges we see right now is how do we get broadband out to these rural areas?"
A $412,391 grant from the Minnesota Department of Employment and Economic Development is helping Woodstock Communications extend fiber to homes and businesses in Westbrook, Minn. It's about a million-dollar project that will make gigabit service available to approximately 400 new locations, Nelson says.
Woodstock Communications also is one of eight companies that came together to form a larger broadband network in southern Minnesota. It includes five other independent telecoms from Minnesota, one from Iowa and South Dakota-based SDN Communications, which is the managing partner of the group.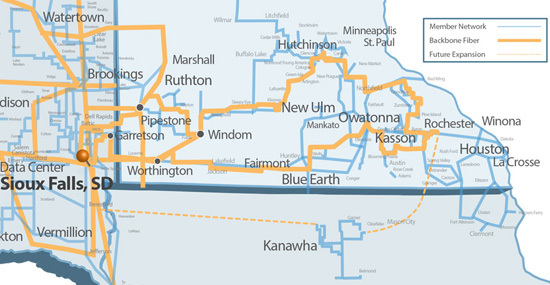 The network, which has been open for about a year and a half, links several networks together to provide new communications options to serve and attract regional businesses. The fiber network extends across southern Minnesota from the border of South Dakota to Wisconsin, and from south of the Twin Cities to Iowa.
In addition to Woodstock Communications and SDN, partner companies include:
• AcenTek of Houston, Minn.
• BEVCOMM of Blue Earth, Minn.
• Communications 1 of Kanawha, Iowa
• Jaguar Communications of LeSueur, Minn.
• KMTelecom of Kasson, Minn.
• NU-Telecom of New Ulm, Minn.
The partnership is a good business opportunity for Woodstock Communications and other member companies, Nelsen says.
"I think it's going to be a great asset to have in the future. It gives us the opportunity to go after large customers," he says.
Nelson was familiar with SDN long before the partnership came together. The two companies have worked on other projects together.
"We've got a great relationship with them," he says.