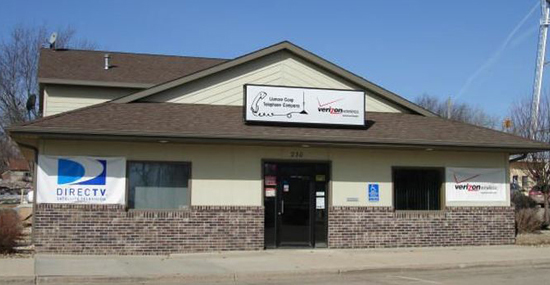 ---
For a small business, the Lismore Coop Telephone Company delivers big.
The 112-year-old company based in Lismore, Minn., upgraded all of its copper telephone lines to fiber nearly a decade ago and has been helping provide wireless services for nearly 30 years.
In 2017, it received a state matching grant for more than $2.9 million to help improve broadband services to underserved households, businesses and institutions in Nobles County.
The cooperative took another significant step into the future recently by joining a growing telecommunications network managed by Sioux Falls-based SDN Communications.
Lismore Telephone is one of the newest partners of the network that directly connects several companies that cover much of the southern third of Minnesota.
Joining the network will help Lismore Telephone efficiently expand its reach to better serve regional and national customers, such as multi-site businesses. In turn, the SMB data-transporting network benefits from the addition of more network mileage and another solid partner.
The telecommunications industry increasingly is global in nature, and Lismore Telephone strives to remain competitive, said Mark Loosbrock, secretary-treasurer of the Lismore Telephone Board.
"One of the reasons we're joining this network is we have to have access to data, fast data to supply our infrastructure," said Loosbrock, who is also president of the Lismore State Bank. "We're just trying to stay at the forefront, where we have been all along, and we want to continue to stay at the forefront for our community."
Other partner companies in the SMB network and the location of their headquarters are:
AcenTek of Houston, Minn.
BEVCOMM of Blue Earth, Minn.
Christensen Communications Company of Madelia, Minn.
Communications 1 Network of Kanawha, Iowa
Jaguar Communications of Le Sueur, Minn.
KMTelecom of Kasson, Minn.
Nuvera of New Ulm, Minn.
Woodstock Communications of Ruthton, Minn.
Loosbrock is the secretary-treasurer of the Lismore Telephone Board. His father and grandfather previously served on the Board, which currently is headed by President Darwin Veld.
Bill Loonan, general manager of the coop, said Lismore Telephone is happy to partner with SDN, which he called a strong company with an outstanding reputation. The two companies worked together in the past on a tower project.
The coop got started in 1907 after a group of farmers in the area connected their phone lines and opened a switchboard. By 2010, all of its lines had been upgraded to fiber.
Today, in addition to providing local phone and internet service, the company is a local agent for Verizon Wireless and Exede satellite internet. Lismore Telephone and its 10 employees serve the community of Lismore, which has about 225 residents, and the surrounding rural area.
Lismore Coop Telephone pays out capital patronage credits annually. In late 2018, the company paid out about $500,000 in patronage to its members.
"We're as community-minded in Lismore as any organization could be and we're well respected for it," Loosbrock said.
SDN is a coalition of South Dakota's independent telephone companies. They started joining their networks in 1989 to create a hub to deliver long-distance choice to the companies' rural customer base. Today, the SDN network provides internet services to businesses and government agencies and reaches into eight states.