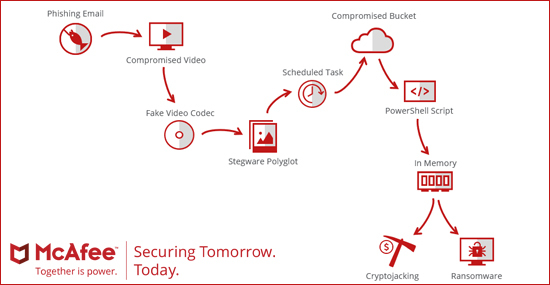 ---
Sometimes after reading about the latest cybersecurity threats, I feel a little uneasy. I don't look under my desk for the bogeyman, but I do make sure the webcam on my computer is covered.
I checked the webcam cover a couple of times while reading McAfee Labs 2019 Threats Prediction Report.
McAfee is a globally prominent, security software company based in Santa Clara, Calif. It's also a leading source of cyberthreat intelligence. So the company speaks with authority.
I was especially concerned in its report for the new year about rumblings from the cyber underground that suggest hackers increasingly are working together to launch more effective attacks.
"Hidden hacker forums and chat groups serve as a market for cybercriminals, who can buy malware, exploits, botnets, and other shady services. With these off-the-shelf products, criminals of varying experience and sophistication can easily launch attacks," according to McAfee's report. "In 2019, we predict the underground will consolidate, creating fewer but stronger malware-as-a-service families that will actively work together."
Prospective victims also have the opportunity to work together more. But collaboration can be challenging in the competitive work of business. Regardless, it looks like targeted businesses, like the security industry, will need to respond to threats and attacks quicker and more effectively than ever before in 2019.
McAfee encourages companies and other prospective targets to be curious and creative and dealing with threats and attacks. Keep the big picture in mind to help get the most out of security solutions. For example, could a ransomware hit be part of a bigger attack? Could a phishing email lead to an attack method your employees have not been trained to deal with?
Some major threats remain common but are changing. Ransomware, for example, might be used as a cover for another form of attack, such as cryptomining, according to McAfee. Cryptomining malware, or cyptojacking, is one of the newest threats. Such malware programs can be designed to take over a computer and use it to mine for cryptocurrency.
Some cybersecurity analysts expect cryptomining malware to be a rapidly growing field of exploitation in 2019. Other experts see areas such as the accelerating deployment of 5G communications technology as a growing target.
Distributed Denial of Service attacks, or DDoS attacks, also remains a common and potentially damaging form of attack. They can overwhelm targeted programs and also can be used as a cover for other attacks.
---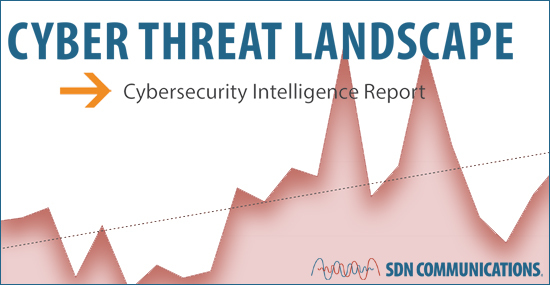 SDN cybersecurity report identifies troubling, regional trends
---
If there's a way to exploit for profit any form of technology, from the Internet of Things to artificial intelligence, cybercriminals will find it, and they will exploit it until the vulnerability is no longer profitable.
The Information Security Forum, a nonprofit association, expects cybercriminals to increasingly focus their ransomware efforts on smart devices connected to the Internet of Things.
"Such attacks have the potential to disrupt business operations and automated production lines. But they could also prove deadly if they affect medical implants or vehicle components," Thor Olavsrud writes in his article, 9 biggest information security threats through 2019 for CIO.com.
That's a scary thought. They are movie plotlines coming to life.
Hackers won't have it easy in 2019, of course. Cyber defenses are getting better, and people everywhere are becoming more aware of risks.
To combat an ever-growing and increasingly sophisticated volume of attacks, security experts at SDN Communications always encourage business clients to take a layered approach to cybersecurity.
Protecting the edges of a network isn't enough. Nor is focusing security on workstations. Protecting the entire network should be a mindset that is established in everyone from the CEO to the newest intern, and training, like software, should be regularly updated.
Sioux Falls-based SDN is a leading, regional provider of broadband connectivity and cybersecurity services for businesses. Business people who would like more information about the company and its services may call 800-247-1442 or explore www.sdncommunications.com.