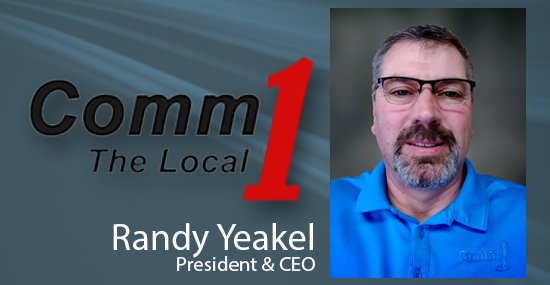 Randy Yeakel jokes that he's been around longer than everything at Comm1's headquarters except the concrete.
Yeakel started working part-time for Comm1, or Communications 1 Network Inc., in Kanawha, Iowa, in 1984 when the company was constructing a new plant and office building. The concrete had already been poured by the time he started wielding a pickaxe to help move lines across the street to the new facility.
The company, whose roots date back to 1900, was still known as the Norway Rural Telephone Company in the 1980s and 1990s. It didn't become Communications 1 until 2002 when it purchased telephone exchanges in nearby Corwith and Klemme.
In addition to Kanawha, Corwith and Klemme, Comm1 also provides telecommunications services to the north-central Iowa communities of Britt and Garner.
Yeakel is now in his 33rd year with the company. He became manager in 1991 and was named president and CEO in 2016.
Comm1 has a history of serving its rural, agricultural market progressively and with a focus on future opportunities. In 1965, it became one of the first telephone companies in the nation to bury all its lines and provide each customer with a private line.
Today, it's one of eight partners in SDN Communications' network expansion into southern Minnesota.
Comm1 is the only partner telecom not directly connected to the network. South Dakota-based SDN manages the network and is also a partner in the venture. The expansion's other six partner companies are all based in Minnesota.
Yeakel said Comm1 was approached by Bill Otis, who chairs the Board of Governors for the southern Minnesota section of the network when it was being formed. Otis is also the president and CEO of NU-Telecom of New Ulm, Minn., another partner.
"We thought what they were doing was an intriguing and interesting concept," Yeakel said. "We saw potential benefits."
Companies with vision and leadership had gotten together to better serve southern Minnesota and possibly northern Iowa, he said.
Construction to link thousands of existing miles of fiber finished in late 2015. The network expansion opened for business in early 2016 and spans southern Minnesota from the border of South Dakota to Wisconsin, and from south of the Twin Cities to Iowa.
Comm1 might connect to the network in the future to better serve customers in the region, Yeakel said. In the meantime, Comm1 can reach the partners indirectly.
Kanawha is a Hancock County community of about 650 residents. Comm1 is the oldest business in town and one of the oldest in the area.
A few farmers in Norway Township in Wright County started the company as a telephone exchange in 1900. Within a decade, it included 60 phones and nine party lines.
Today, in addition to phone service, Comm1 provides digital cable, Internet and wireless services to homes and businesses. The company serves customers as an Incumbent Local Exchange Carrier (ILEC) in some areas and as a Competitive Local Exchange Carrier (CLEC) in other communities. Comm1 is 100 percent fiber to the home in both exchange areas.
In addition to Yeakel, Comm1 employs a plant manager and three other outside technicians, plus three office staffers. The office staff includes a CPA and two customer service representatives. Bill Johnson, a longtime businessman from Belmond, Iowa, is the majority owner of the company. He chairs Comm1's board.
In addition to its affiliation with the SDN network, Comm1 has several other partnerships to keep the company strategically positioned, diversified and prepared for future opportunities. It owns a third of Goldfield Telephone Co., which serves several communities south of Comm1's area.
The biggest challenge facing Comm1, its host community and other towns in the market is one that's familiar in small, agricultural communities across the Upper Midwest.
"The real challenge we face in all of rural America is how to get people to stay and live here," Yeakel said.
Regardless of current population issues, Comm1 is planning for the future in an upbeat style.
"My glass is always half full," Yeakel said. "We're always looking for new partnerships or otherwise diversifying, and not running the path of just being a telephone or Internet company."
Get to know SDN's member companies better and the impact they have on their communities through our other member articles.