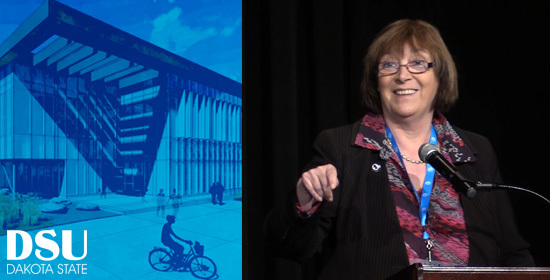 Dr. José-Marie Griffiths, president of Dakota State University, drew laughs from the audience when she jokingly passed along some password-security advice during the recent South Dakota Technology Showcase.
Her suggestion, adapted from a training technique for children, compared caring for passwords to underwear. Both should be changed regularly, she said, and don't leave them lying around nor share them with anyone.
It was an amusing suggestion that came at the end of Griffiths' recap of what is likely to be a significant milestone in the educational and technological development of South Dakota. Madison-based DSU is striving to become a more prominent national leader in cybersecurity education, and a recently announced building plan should help.
In late August, dignitaries gathered in Madison to celebrate a $30 million gift to DSU from business kingpin and philanthropist Denny Sanford, who owns First PREMIER Bank and PREMIER Bankcard; PREMIER Bankcard President and CEO Miles Beacom, who is a DSU graduate; and Beacom's wife Lisa. The gift from Sanford and the Beacoms will be combined with $10 million from a state fund and, if all goes according to plan, an additional $20 million from federal and private sources.
The money will help build and develop what's being called the Madison Cyber Labs, or MadLabs. Plans call for some of the money to also be used to fund scholarships and additional faculty and staff. The 40,000-square-foot, limited-access, state-of-the-art MadLabs building will allow students, graduates and researchers to work on classified and proprietary projects on campus.
The facility is expected to open in late 2018 or early 2019. It is envisioned as a cutting-edge jobs creator as well as an education tool. Lab-related programs are expected to create 200 to 300 jobs on the DSU campus and 1,000 to 1,500 in the region, Griffiths told an audience of more than 100 tech-minded people at the Technology Showcase, which was held in August at the Sioux Falls Convention Center.
"In terms of strategic positioning, we want South Dakota to be known as the cyber leader," she said. "We have expertise and national recognition in cyber education."
That certainly is a worthwhile goal. There is a critical need for cybersecurity expertise and professionals across the region and the United States. With constant advances in technology comes the potential for misuse. The MadLabs project will help position DSU to meet current and future challenges.
DSU already holds four Center of Academic Excellence designations from the National Security Agency and Department of Homeland Security, including one as a Cyber Defense Consultative Regional Resource Center.
The potential economic benefits of job creation related to the MadLabs project are significant. But the need for good, trained cybersecurity workers is the more immediate need. Cybercrime threatens the well-being of the entire nation, not just regional businesses, organizations and individuals.
In 2020, businesses around the world are expected to spend $101.6 billion on cybersecurity software, services and hardware, according to the International Data Corporation's research released in 2016. That compares with the estimated $73.7 billion spend in 2016. The United States is expected to be the single largest consumer of those tools and services.
DSU is in a strong position to help meet this growing need for cybersecurity services.
Sioux Falls-based SDN Communications is among the supporters of DSU's efforts to expand the appeal of cyber careers to more students, particularly girls. SDN also was one of the sponsors of the Technology Showcase. The other two sponsors of the conference were AT&T and the South Dakota Chamber of Commerce & Industry.