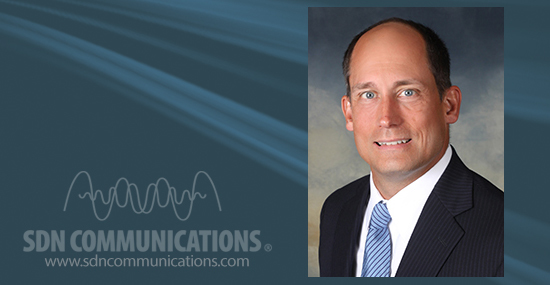 Dave Fehrs' work experience with other companies gave him a special appreciation of the importance of good technology to successful businesses.
Fehrs, a senior account executive, started working for SDN Communications in December 2012. Before that, he worked for eight years for Wells Fargo Financial in Rapid City and Sioux Falls, and for 12 years with Diebold Inc. in Sioux Falls.
He began his career in sales in 2000 with Diebold, which sells equipment such as Automatic Teller Machines (ATMs) and related products and services to banks and other financial businesses. He called on clients around the state and saw firsthand how important dependable connectivity and technology equipment were to companies, especially those in financial services.
"It's really vital to how they're able to do business," he says. "A reliable, robust network is a requirement today. It's not a 'nice-to-have.'"
Working with businesses around South Dakota also gave him the perspective that he can share with his clients at SDN.
In addition to having SDN clients in Sioux Falls, Fehrs has customers in Aberdeen and Kyle, S.D.; Marshall, Minn.; and Sioux City, Iowa.
Fehrs, 44, grew up in Norfolk, Neb. He attended the University of South Dakota, graduated 1992 and went to work for Wells Fargo.
He and his wife, Monica, a photographer, have three teenaged children. He has a boat that the family enjoys using at Lewis and Clark Lake, near Yankton.
"Most of my time away from work is spend with my family and kids' activities," he says. "It's been great."
Challenges and opportunities
At work, Fehrs is a relatively new member of a veteran sales staff that reports to Ryan Punt, vice president of sales.
Because of the overlapping relationship of networking services and technology equipment, SDN no longer divides account executives into different product and service specialties. Fehrs and other account executives can help businesses and institutions with products and services ranging from broadband connectivity to mannaged cybersecurity services.
SDN's wide range of products and services allows sales executives to take a big-picture, consultative approach to help clients, Fehrs says.
One challenge for account executives is helping clients understand the value and advantages of getting their networking services and technology equipment from the same company – preferably SDN – rather than dividing their business among providers that might not interact particularly well, Fehrs says.
Unifying with one vendor can provide a company with a clear line of accountability for performance, whether it's good or bad.
Going forward, Fehrs sees two trends in electronic communications that he expects will continue to grow in importance: efficient collaboration and information security.
Increasingly, businesses are relying on multiple channels of communication for fast and effective collaboration with customers, suppliers and employees, Fehrs says. Deals that used to be made in person or over the phone, for example, might require the quick exchange of electronic files or a video conference.
Employees, as well as customers, want a full range of communications options available to conduct business, Fehrs says.
"In the next few years, if you don't have this or aren't exploring it, you're going to be left behind," he says. "These are going to become expected interactions."
The other area of growing importance is information security.
Businesses such as health care and financial services are required by regulation to keep electronic information safe. Increasingly, the importance of good security standards is spreading to other businesses sectors, Fehrs says.
He is among the SDN account executives who can help businesses expand their collaboration options and improve the security of electronic assets.