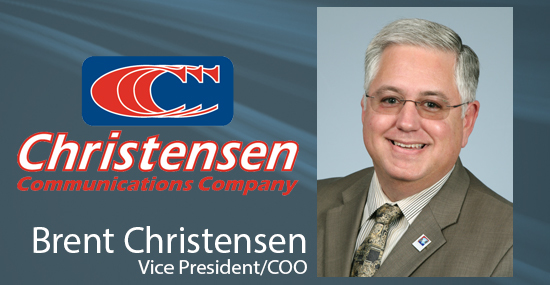 ---
Getting into telecommunications after working in law enforcement was a natural move for Brent Christensen, vice president and chief operating officer of Christensen Communications Company in Madelia, Minn. Family members from four prior generations had been involved in the company.
"Providing telecommunications in Madelia is literally in our DNA," Christensen said.
Christensen's great-great-grandfather was among the 48 founders of the business in 1903. Through the years, members of the Christensen family acquired more and more stock. Brent's father, Everett, is now the sole owner as well as president and chairman of the Board.
Brent's great-grandfather and grandfather previously presided over the Board.
Brent Christensen joined the family-owned business 23 years ago as an installation and repair technician. That was after he had worked for more than 14 years as a deputy sheriff in Austin, Texas. The two professions are really quite similar, he said, jokingly.
"You wear a uniform. You wear a tool belt. You have a marked vehicle, and you drive around to people's homes and fix their problems," he said. "The only difference is they liked it when I was the telephone tech."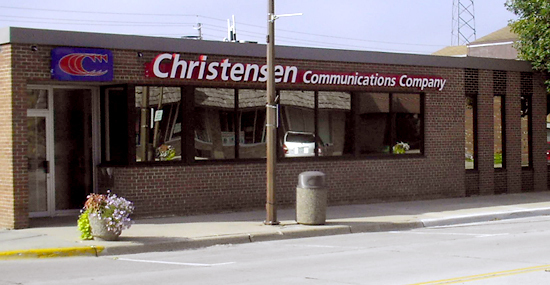 Today, Christensen oversees day-to-day operations of the family-owned company, which provides phone and internet services to the Madelia, La Salle and St. James areas. The company has about 1,400 customers.
The company is also one of SDN Communications' newest partners in southern Minnesota. The network first expanded to connect telecoms through the southern third of Minnesota about four years ago and is managed by Sioux Falls-based SDN.
The improved accessibility will help Christensen Communications and other partner companies better serve customers, such as businesses that are regional and have more than one location. The network can provide such clients with a one-stop hook-up option.
Christensen Communications brings an interesting history and strong emphasis on customer service to the group.
The company operates under the motto, "Where service is our most important product." Its talented and dedicated staff of seven people will do whatever is necessary to serve customers, Christensen said. Significant moments in company history support the point.
For example, the company started offering DSL internet in 2000 because dial-up service wasn't fast enough for a local business that sold snowmobiles. Sales documents couldn't be efficiently transferred.
"We didn't know anything about it before then. So we had to become the experts and roll out the service," Christensen said.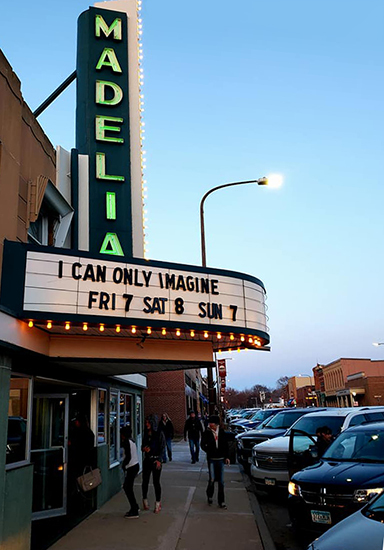 Then there's the Madelia Theater, which the company operates. Christensen's father bought the movie theater a few years after it closed, and the company has kept it in operation since 1991.
Christensen's father also bought an endangered brick building, which today provides office space for the Chamber of Commerce. Before Madelia had a hotel, the building also served as a two-room hotel for the community.
"Our focus is not to be the biggest guy on the block, but to be the best guy on the block. And it's really what we're trying to get to," Christensen said.
If small providers of telephone or broadband services want to survive, they have been willing to partner with other companies to expand their services, Christensen said. Joining SDN's network provided that kind of opportunity for Christensen Communications.
"I've worked closely with most, if not all of the members [in southern Minnesota] for many years. I know them. I know their families. I know how they do business. I trust them. If we were going to get into a transport endeavor, this was going to be it," Christensen said.
In addition to Christensen Communications and SDN, other Minnesota- and Iowa-based partner companies (and headquarters) include:
AcenTek (Houston, Minn.)
BEVCOMM (Blue Earth, Minn.)
Communications 1 Network (Kanawha, Iowa)
Jaguar Communications (Le Sueur, Minn.)
KMTelecom (Kasson, Minn.)
Lismore Coop Telephone Company (Lismore, Minn.)
Nuvera (New Ulm, Minn.)
Woodstock Communications (Ruthton, Minn.)
SDN is a coalition of South Dakota's independent telephone companies. They started joining their networks in 1989 to create a hub to deliver long-distance choice to the companies' rural customer base. Today, the SDN network provides an array of file-sharing and internet services to businesses and government agencies and reaches into eight states.