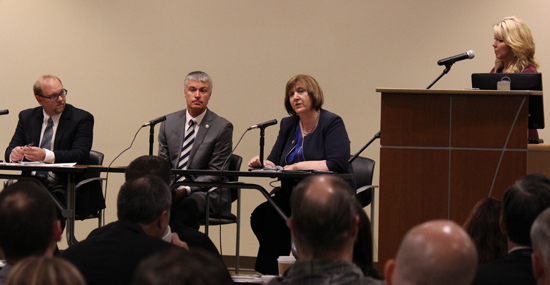 No business, institution or individual can avoid malware attacks, not even a university that trains future cybersecurity experts.
Dr. Jose-Marie Griffiths, president of Dakota State University in Madison, S.D., mentioned during a presentation in Sioux Falls that a ransomware attack penetrated her school last year. Staff members inadvertently exposed DSU's network to a form of malicious software by clicking on an infected link or through some similar action.
Typically, hackers use ransomware to lock up an organization's valuable data and refuse to decrypt the information until they're paid a ransom in online currency. DSU might have lost a small amount of secondary information in last year's ransomware attack, Griffiths said, but the attack was quickly contained and they didn't pay a ransom.
"It was a good wake-up call for us," Griffiths said.
Actually, DSU is a frequent target, perhaps because hackers are challenged by the idea of attacking a school that specializes in cyber education, she said.
Griffiths was one of three presenters at a free program on Oct. 25 that was designed to help small businesses operate safely in a largely insecure, digital world. The Better Business Bureau hosted the event at the Avera Prairie Center. SDN Communications, Avera McKennan Hospital & University Health Center and KELOLAND-TV sponsored the two-hour event.
In addition to Griffiths, Theron McChesney, a business intelligence specialist at SDN, and Marty Jackley, South Dakota's attorney general presented to the attendees. In addition to his duties as the state's chief law enforcement officer and legal adviser, Jackley is running for the Republican nomination for South Dakota's governor.
During her presentation, Griffiths stressed the importance of building out the infrastructure that will be needed to support the next generation of wireless technology, which has become known as 5G. It is still being developed globally, but 5G technology will eventually bring an additional layer of improved connectivity.
The infrastructure needed to support 5G includes additional small cell towers to take some of the transmission load off bigger, macro towers. When 5G starts becoming operative in a few years, equipment on towers that boost 4G communications will be swapped out to support 5G, Griffins said.
McChesney's presentation highlighted the constant digital attacks that businesses and organizations are up against on a daily basis.
SDN's Cyber Threat Landscape Report for the third quarter of 2017 indicated, for example, that regional business firewalls managed by SDN stopped 40 percent of all the traffic that flowed into them. The traffic was filtered out because it had been flagged as malicious or as spam.
From July 1 to Sept. 30, SDN's Managed Firewalls prevented more than 147,000 viruses, more than 154,000 malware infections and about 14,600 botnets from reaching devices.
In addition, SDN's Managed DDoS Protection helped prevent 832 Distributed Denial of Service attacks on customers. That's an average of nine per day. DDoS attacks are designed to overwhelm and at least temporarily disable targeted systems with malicious traffic.
Businesses cannot protect themselves by simply filtering out electronic traffic from counties where attacks tend to originate. That's because the United States is one of the biggest originators of threat events, McChesney pointed out. During the third quarter, the United States was eclipsed only by China as the country of origin for threat events.
Jackley focused his remarks heavily on the serious ramifications of the recent hack on the Equifax credit-reporting service. The hack exposed the personal data of approximately 278,000 South Dakotans, leaving them forever at risk of identity theft.
"It's pretty safe to say that Equifax fumbled this breach," Jackley said. "They knew it happened. They didn't tell, and when they did, they tried to make a profit off of it."
Jackley and most of the other state attorney generals in the United States are frustrated and exploring the possibility of taking action against Equifax. Meanwhile, consumers should be on guard. They might want to subscribe to credit monitoring service, fraud alerts or even put a freeze on their credit, he said.
Jackley says the Equifax breach affects most South Dakotans, either directly or indirectly through a family member.
"It's a big deal," he said.