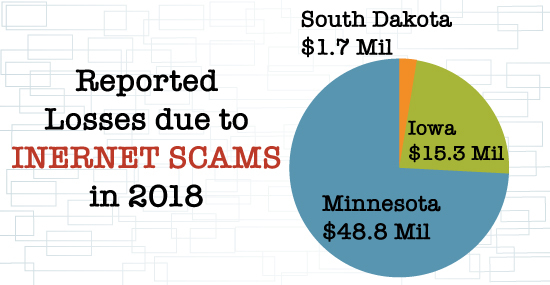 ---
In just a few decades, the internet has completely transformed the way America conducts business. Using the internet has become so routine that it's difficult to find a company that isn't online in some way.
In addition to serving as a purchasing vehicle, the internet has become a wondrous, high-speed communications tool for educating and entertaining people. It constantly opens new and engaging pathways.
However, cyberspace can also be dangerous, especially for the unwary, and risks are expanding. New crime statistics document the extent of potential problems for Americans.
Internet-enabled theft, fraud and exploitation were responsible for $2.7 billion in losses in 2018 according to the FBI's Internet Crime Complaint Center (IC3). Financial losses from internet crime nearly doubled just from 2017 to 2018, according to the FBI's Internet Crime Report for 2018. Losses in 2017 totaled $1.4 billion.
The IC3 was established in May 2000 as a central point for receiving complaints about internet crime. Since then, it has received more than 4.4 million complaints. The center helps alert the public to dangers and works with the private sector and local, state, federal, and international agencies to combat cybercrime.
The IC3 received an average of more than 900 complaints every day last year. It received approximately 300,000 complaints each of the past five years. Imagine all the additional victims who, out of fear or embarrassment, didn't report crimes.
Internet crime schemes ran the gamut in 2018 from credit and investment fraud to identity theft and flat-out extortion.
"The most frequently reported complaints were for non-payment / non-delivery scams, extortion, and personal data breaches. The most financially costly complaints involved business email compromise, romance or confidence fraud, and investment scams, which can include Ponzi and pyramid schemes," the FBI reports.
Business and employment opportunities are among the bait cybercriminals use often. For example, a bogus, foreign-based business will solicit people for work or business opportunities that involve selling or shipping merchandise. They ask the employee or business partner for personal information such as a Social Security or bank account number, and the theft begins.
The 2018 Internet Crime Report identifies business email compromise as one of last year's hottest topics. Such scams frequently use fake email messages and are carried out with the help of social engineering.
The most common victims of internet crime in the United States tend to be older. People 60 and older reported the biggest losses. But people in all age groups reported losses.
India was the most common foreign country linked to complaints, followed by the United Kingdom and Canada.
South Dakota – the home base of SDN Communications – ranked low in total losses reported by states and U.S. territories: 53 of 57. Even so, losses in the state for 2018 exceeded $1.7 million. Neighboring Minnesota ranked 14th with $48.8 million in losses, and Iowa ranked 31st at $15.3 million.
Putting last year's reported national loss of $2.7 billion into perspective is difficult. These comparisons might help:
That's about the current, worldwide, box office income of "Avengers: Endgame," a hit movie about comic book superheroes.
It's about what Air New Zealand Ltd. is paying for eight Boeing Co. 787-10 jets to upgrade its long-haul fleet.
It was the amount of a record-high fine imposed on Google by the European Union in 2017 in an anti-trust case.
Businesses and consumers who have fallen victim to any type of internet scam are encouraged to file a complaint on the IC3 website. See ic3.gov for more information. Of course, someone in immediate danger should contact a local law enforcement agency or call 911.
It's a cliché but remember: if something on the internet seems too good to be true, it probably is. It might be a scam so proceed with caution. The internet is great, one of the greatest inventions of all time, but cyberspace can be dangerous. FBI crime numbers prove it.
SDN Communications is a regional leader in providing broadband connectivity and cybersecurity services to businesses in communities such as Sioux Falls, Rapid City, Worthington and the surrounding areas.