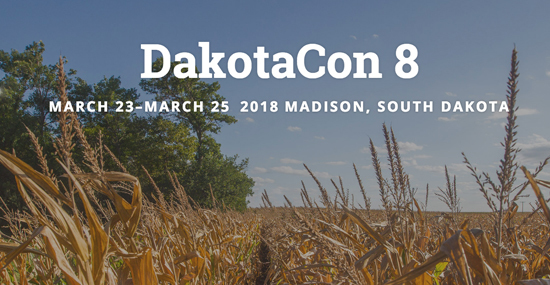 ---
People interested in cybersecurity will have an opportunity March 23 in Madison, S.D. to hear experts talk about several intriguing topics, and admission will be free.
People also might want to go and watch 11 teams from five states battle in the regional Collegiate Cyber Defense Competition battle for the right to advance to national competition in Florida. Spectators won't be charged for watching that, either.
Friday, March 23 will be the first day of the eighth annual DakotaCon on the campus of Dakota State University. The three-day conference, which promotes itself as "South Dakota's premier security event," runs through March 25.
Not everything will be free. There's a cost for taking specialized training sessions on topics such as hacking tactics, which is useful information for IT professionals trying to enhance their companies' protective strategies.
For conference organizer Kyle Cronin, one of the most appealing aspects of DakotaCon is the informal access it provides conference-goers to renowned cybersecurity experts.
Some people might be apprehensive about going because of the complex nature of some of the topics, Cronin said, but the subject matter is also an attraction.
"One of the best values for folks is coming and learning what you don't know," said Cronin, who is an assistant professor of cyber operations at DSU.
Topics scheduled to be addressed by experts in opening-day presentations include "A Hype-Free Look at Blockchain." Michael Iedema, a DSU alum who lives in Spain, will step back from the buzz about blockchain technology to explain how it works and what it can and cannot do.
Jared DeMott, the keynoter, will talk about product security testing. He's a security researcher from Michigan and an expert in analyzing software for flaws.
Other speakers include Bob Kalka, vice president of the IBM Security Business Unit. He'll talk about how cognitive and artificial intelligence are changing the cyber world.
Speeches will begin around 8:30 a.m. on March 23. The collegiate competition will begin the afternoon of the first day and go into the second. Training sessions will begin Saturday afternoon and extend into Sunday.
SDN Communications of Sioux Falls is one of the top sponsors of the DakotaCon. SDN is a premier regional provider of broadband connectivity and cybersecurity services for businesses. The sponsorship of businesses such as SDN helps keep parts of the event free and accessible to the public, Cronin said.
SDN is also a gold sponsor of the Sioux Falls Cybersecurity Conference, which will be held March 27 at the Holiday Inn City Centre. The Sioux Falls Area Chamber of Commerce and the U.S. Chamber of Commerce are hosting the high-level business conference. The cost is $75.
The Sioux Falls Cybersecurity Conference generally is geared for business leaders and managers, according to organizers. DakotaCon in Madison will be more technical in nature.
People interested in taking one the four advanced training sessions at DakotaCon may register at the event website. Training topics include, for example, learning to defend against advanced adversaries. Participating in training costs $500.
No registration is required to hear the general speakers or to watch the collegiate competition DakotaCon. Just show up.
In the collegiate competition, each team will try to protect a network of computers and servers from a group of invading hackers.
"We try to make it as much of a spectator event as we can," Cronin said. "It's kind of fun to sit back and watch a team of eight individuals under pressure and see how they handle it. It's a great job skill."