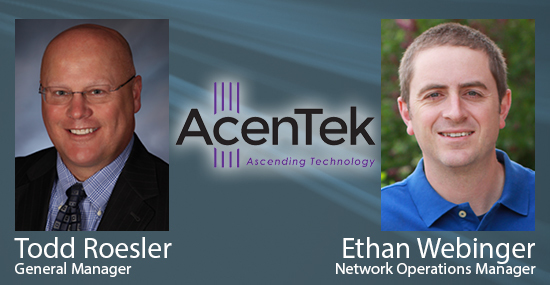 Ace Communications Group recognized in 2014 that it was more than a phone company, and rebranded itself. The cooperative started going by AcenTek, a play on the phrase "ascending technology."
AcenTek is a fitting name for a company that takes pride in the modern communications products and services that it offers customers.
"That's really something we've been pushing as we move forward. We're really a technology company. Yes, we provide telecommunications, but we're a technology company," says Ethan Webinger, network operations manager for AcenTek. "We're providing IT solutions to medium and small businesses, managed IT services, and Ethernet and internet-based services to our urban and rural areas."
The cooperative is based in Houston, Minn., a town of about 1,000 residents in the southeastern corner of the state. Like Houston, Texas, the Minnesota community was named for Sam Houston, the first president of the former Republic of Texas.
AcenTek serves customers in Iowa and Michigan, as well as Minnesota. For the past three years, it's been investing in a major fiber-to the-premise project and is committed to bringing fiber service to all its communities, Webinger says. The project is roughly a fourth done.
It was also one of eight companies to join networks in southern Minnesota in 2016. Coverage of that partnership extends across southern Minnesota from the border of South Dakota to Wisconsin and from south of the Twin Cities to Iowa.
The partnership provides a new communications option, especially, for regional businesses. Sioux Falls-based SDN Communications is the managing partner of the group that includes AcenTek and six others:
Todd Roesler leads the company as the chief executive officer. He had previously served as the chief operating officer from 2007 to 2009. Before that, he served as a bank executive in Caledonia.
Webinger has been with the company for 13 years and in his current position for six years.
AcenTek got its start in the early 1950s as the Fillmore County Telephone Cooperative to help bring telephone service to rural areas of southeastern Minnesota. Several telephone exchanges were purchased, and the business office moved from Rushford to Houston.
The cooperative became known as the Ace Telephone Association in 1956 and continued acquiring phone companies.
Today, its 21 telephone exchanges in southeastern Minnesota and northeastern Iowa and 11 exchanges in Michigan serve 16,000 telephone customers. The cooperative has approximately 17,000 internet customers in its three-state market area, Webinger says.
"We've always prided ourselves in our customer service and the quality of the products," Webinger says.
Its emphasis on providing good, high-level customer service and products give it an advantage over bigger, national companies that also serve the region, he says.
"One challenge is to predict where the video-cable TV market is headed," Webinger says. "It's changing rapidly. Where does AcenTek, with its current services, fit in down the road?"
And AcenTek's commitment to providing good services positions it well to adjust to whatever technological changes the future brings.
Learn about SDN's additional member companies through this section of this blog.