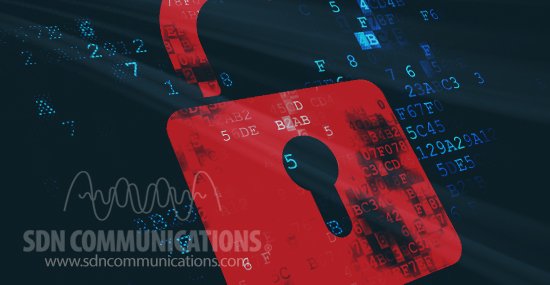 The start of a new year is a good time to look ahead. It's a fitting time to go public with economic outlooks and predictions in fields ranging from politics to entertainment.
It's even become a popular time for companies in the cybersecurity business to size up the threat environment for the coming year. It's a clear indicator of how important cybersecurity threats have become to the economic well being of many businesses.
By some accounts, cybersecurity is the single biggest risk to the stability of the entire nation.
Broadband security is one of the major services Sioux Falls-based SDN Communications provides to companies, organizations and institutions. Their experts keep up with the latest threats and developments in world cybersecurity. They also pass along what they know in an understandable way.
But, I like to look at what other high-tech companies and institutions say about cybersecurity trends. The first month of 2016 seemed like a good time to check some forecasts.
I skimmed several reports, including threat outlooks from companies in the security software business and high-tech institutions, including these three:
Summarizing several reports in one sentence is difficult, but here's an attempt:
During the coming year, expect more cyberattacks over an expanding battlefront from attackers with growing sophistication and an increased incentive to succeed.
To complicate matters, businesses and other organizations might have to fight the battles shorthanded. A shortage of skilled security workers is among the recurring themes in reports.
In its look ahead, McAfee concluded, in part, "the main forces will be the continuing expansion of the attack surface, increased attacker sophistication, the rising cost of breaches, the lack of integrated security technologies, and a shortage of skilled security talent to fight back."
I found a report from Georgia Tech particularly interesting. It suggested that some attack targets are fighting back in stealthy ways rather than focusing on closing holes in their defense.
"The reality for users and security professionals is that preventing attacks is increasingly difficult. In response, organizations are finding ways to blunt the impact of breaches with techniques such as deceptive networks or comprehensive encryption," according to the report.
On the upside, it appears the importance of cybersecurity finally is reaching the boardrooms of big companies. That's largely because major breaches typically result in the ouster of the CEO and other key executives.
Kaspersky identified seven ongoing targets that collectively underscore the wide-ranging battlefront in today's threat environment:
Retail data
Mobile devices
Phishing attacks and social engineering
Identity theft
Health care data
Children pursued by sexual predators
Bank information.
Every new device for personal, home and business use expands potential targets for attack, the Georgia Tech report noted.
"The explosion in the number of devices has not resulted in manufacturers paying much attention to security. A small sample study by Hewlett-Packard found that seven out of 10 tested devices — including a smart TV, home thermostat, and connected door lock — had serious vulnerabilities that could be attacked," according to the report.
Obviously, consumers should be aware of the increasing threats and buy their gadgets and services from reputable providers that don't neglect security. For individuals, using common sense can go a long way in safeguarding electronic information. Keep antivirus software up to date, for example, and don't open suspicious emails.
Businesses are bigger targets because they have larger systems and increasingly valuable electronic data. Companies without a full and well-trained IT staff often need outside help. Business-to-business companies such as SDN can help them.
SDN offers a line of broadband security services that include Managed Firewall, Managed Routers, Remote Network Monitoring and Managed DDoS Protection.